« To our dear and good friend Jean de Roques, Squire, Lord of this land, Hello ! »
Thus was the way that Henry the fourth had to talk , the second day of february 1590, to his arm's fellow Jean of whom the present propriety is about the same that at this epoch.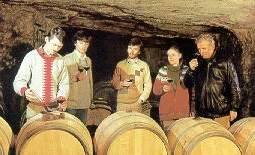 If you ever come round region, come and see us: guided tour of the cellar and free wine tasting.


In the middle of the vineyard
our hotel will provide you with
its quietest rooms and our restaurant
will offer you its finest dishes.
www.chateau-de-roques.com